Mauritius Van Wanseele, the brother of August and Charles, also emigrated to South Bend, Indiana. He too changed his name: to Maurice Van Wanzeele. He arrived in New York on May 13, 1913 by ship (Lapland), and went to live in New Carlisle near South Bend. He was 21 years old. Six years later, in 1919, he became an American citizen. It is not clear what his profession was.
Lotenhulle at the beginning of the 20th century
In 1920, 7 years after his arrival, he was still a student, and single. At that time, he was also a patient at the US Army General Hospital in Deerfield Township, Lake county, Illinois. His military rank was private infantry. In the same year, he travelled to Belgium by ship (Lapland). He married Romanie Van Heyste, a Belgian from Bellem near Lotenhulle. They had 2 sons: Leon (1922) and Robert (1924). Maurice died in 1934, at the age of 42. He was burried in South Bend. His wife Romanie died in 1964, at the age of 70.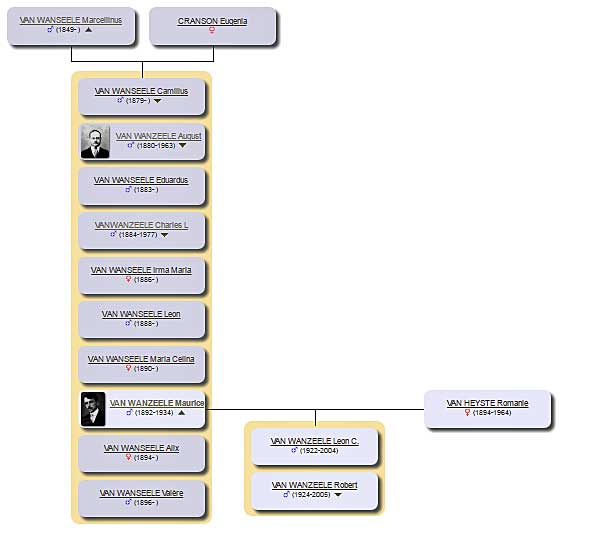 VAN WANSEELE and VAN WANZEELE
Emigration to America
Hard cover | 68 pages | black and white
Order at LULU.COM