August Van Wanzeele
(1880-1963)
August Van Wanzeele was born in Lotenhulle, a village near Aalter (East-Flanders) in 1880. He was a far cousin of Felix and Emile Van Wanseele. Felix en Emile were a generation older than August.
His father Marcellien, was first laberor, then railway guard and afterwards farmhand. August had 6 brothers and 3 sisters. They were all born in Lotenhulle. August was the second in line. His mother Euginie Cranson was a laborer. She was 28 when she had her first child, and 45 when she had her last. During nearly 20 years, from 1879 till 1896, she was pregnant.
August was also a laborer, just like his father and brothers. He was 25 when he married Irma Van Wynsberghe, a girl from the village. She was 4 years younger. They already had a son, Eugene, who was born August 15, 1905. That means she was an unmarried mother, which was scandalous at that time in Belgium. Sex before marriage, was an absolute no go. Especially within the upperclass families, it was unheard of. The lower class tended to be more lenient. His uncles Felix and Emile Van Wanseele also got married when their wives were already pregnant.
Lotenhulle at the beginning of the 20th century
Until 1903 the name was written correctly as Van Wanseele, but then it changed into Van Wanzeele. Presumably due to his move to the United States, because from then onwards, his name, and that of his offspring, is invariably written as Van Wanzeele.
South Bend in the late 19th century
In 1905 he married and left for America. He arrived there with his wife and child on November 4 1905. They went to live in South Bend (Indiana). Not a surprising choice, because the people that lived in the area of Hansbeke, talked a lot about South Bend and Mishawaka. The reason for this was that in 1832, Louis Deseille, chaplain of Hansbeke, travelled as a missionary to America. There he acted in the interests of the Potawatomi indians of South Bend. At that time, a lot of people followed in his footsteps and moved to South Bend. Especially when the rubber boots of BALL BAND became succesful. Among the later emigrants there were very few farmers. The vast majority were farmhands, seasonal laberors and day workers. They all looked for a job in the factories of Mishawaka.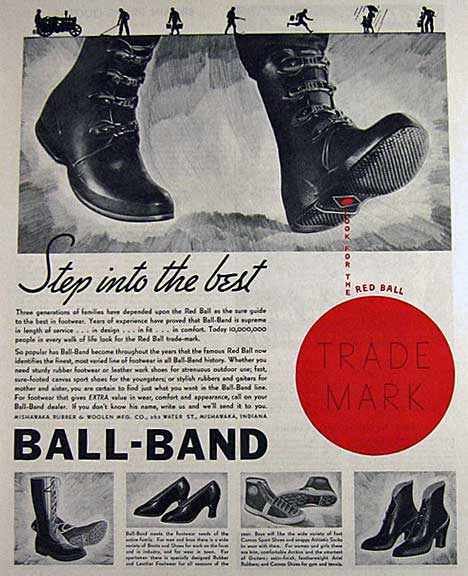 BALL BAND
In 1886, Martin V. Beiger and Adolphus Eberhart, the two principle members of the firm, invented the all-knit boot. From the start, the knit boot was such an outstanding success that the manufacture of flannels and yarn was discontinued. The knit boot was made with a black band around the top. In 1891, the Red Ball was added to the band, and it was registered as a trademark in 1901. The Red Ball on the black band naturally suggested the name "BALL-BAND," and this name was also registered in 1901.
Lumbermens (heavy-duty work boots) was added to the line in 1899, and felt boots in 1895. Since these wool boots and socks were worn with rubber boots and shoes, the company decided to make its own rubber footwear. A rubber footwear plant was built and the first Ball-Band rubber shoes were made in February 1898. Light rubber footwear was added in 1916, leather work shoes in 1917, and canvas sport shoes (tennis shoes) in 1922.
In over a half century, the Ball-Band plant has grown from one small building with a handful of employees to one of the largest rubber footwear plants in the world. The plant encompassed more than 40 acres of floor space, and employed approximately 5,000 wage and salary personnel.

August, however, didn't go to work at the factory, but became a farmer. He and his wife got 3 more children: Mary (1909), Margaret (1910) and Albert M. (1918). Albert became a farmer as well and both Mary and Margaret married one. Mary married Maurice Matthys, the brother of Cyril. Both of them were born in Belgium. Margaret and Maurice built a farm that still exists today and is know as the RON MATTHYS FARMS . Their son Eugene also followed in his father's footsteps and became a farmer.
August became an American citizen in 1919. He returned to Belgium for a visit in the autumn of 1921. He died in 1963 after a tragic car accident in South Bend. His wife Irma (79) only had minor injuries. She died 7 years later, in 1970.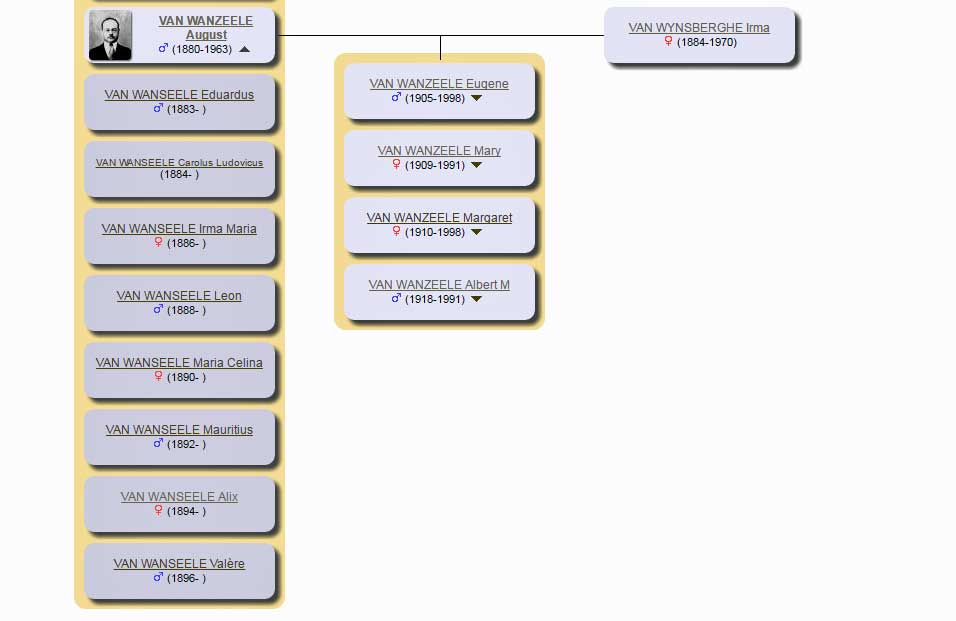 VAN WANSEELE and VAN WANZEELE
Emigration to America
Hard cover | 68 pages | black and white
Order at LULU.COM