Speelgoed Nazaire Beeusaert Toys

(1896 – 1965)
1921
De speelgoedfabriek start in 1921 met de fabricatie van kartonnen paardjes. De eerste paardjes werden in de woning gemaakt die voor een deel als atelier was ingericht. Nazaire en Marie deden het werk zelf, geholpen door twee meisjes. De zaken lopen goed. Enkele jaren later, in 1925, is er plaats tekort en wordt er bijgebouwd achter de woning om de paardjes te persen en te drogen. Rond 1930 wordt er opnieuw uitgebreid met extra stapelruimte om de paardjes te drogen.
1935
Tegen het einde van de jaren dertig is BEEUSAERT dé referentie in België voor de fabricatie van kartonnen paardjes. Het assortiment is uitgebreid met andere dieren (honden, schapen, olifanten, enz.). Beschikbaar in verschillende grootten en uitvoeringen. Het assortiment telt 70 verschillende modellen.  Vanaf 1930 neemt BEEUSAERT jaarlijks deel aan de handelsbeurs in Brussel. In 1935 neemt hij de paardjes over van VEECK en start met de 'mechanische' fabricatie van paardjes.
1921
The toy factory starts manufacturing cardboard horses in 1921. The first horses are produced in the house, which was partly used as a workshop. Nazaire and his wife do all the work themselves, assisted by two local women. A few years later, in 1925, they need to build an extra workshop at the rear of the house as they are in need of more room for pressing the toy horses, treating the wood and drying out the toy horses. About 1930, they need to extend a second time as the room for drying out their finished products proves to be too small.
1935
The business is so successful that by the end of the thirties BEEUSAERT has a strong reputation as manufacturer of cardboard horses in Belgium. The range of products is by then extended to many other kinds of animals (dogs, sheep, elephants, etc.). They are available in different forms and sizes. The number of models totals about 70 ! Each year, from 1930 on, BEEUSAERT participates with an own stand at the Trade Fair in Brussels. He takes over the cardboard horses of the VEECK Company of Brussels in 1935 and starts manufacturing the toy horses in a "mechanical way".
1940
Bij het uitbreken van WO II ziet BEEUSAERT zich verplicht om de fabricatie van paardjes stop te zetten bij gebrek aan grondstoffen. Het faillissement dreigt. Gelukkig krijgt hij het aanbod van Bon Marché in Brussel om over te schakelen op de fabricatie van soldaatjes. Het is de redding van de fabriek. Het is voor beiden een 'win win' situatie. De eerste soldaatjes dragen het merkteken BM (Bon Marché). Nog tijdens de oorlog kan BEEUSAERT het assortiment uitbreiden met andere reeksen, zoals cowboys en indianen, kerstbeeldjes, boerderij figuren, enz. Ze worden gemerkt met NB (Nazaire Beeusaert). Na de oorlog wordt de fabricatie van paardjes hervat.
1950
Bij het begin van de jaren vijftig vervoegen de zonen Julien en Romain hun vader in de fabriek. Onder hun impuls wordt het assortiment verder uitgebreid met allerlei constructies die mooi aansluiten bij de soldaatjes: kastelen, loopgrachten, boerderijen, indianententen, enz.
1940
At the outbreak of the Second World War, the production of toy horses has to be stopped by lack of cardboard. Beeusaert is afraid he'll have to close down his factory, but fortunately he is asked to manufacture toy soldiers instead. This is an excellent solution to his problems. The first soldiers are marked BM, as they are an exclusive product of BON MARCHE. During the war, the range of products is widened with new figurines: Indians, cowboys, Christmas figurines, etc. All figurines are now marked with the letters NB (Nazaire Beeusaert). But after the war, he starts again manufacturing toy horses as well.
1950
The sons Julien and Romain Beeusaert join their father's company in the beginning of the fifties. They widely extend the range of products with all kinds of constructions: fortresses, trenches, castles, farms, Indian tents, etc.
1958
1958 is voor BEEUSAERT een kantelmoment. Met de intrede van plastiek speelgoed (bvb. LEGO) komen de paardjes in karton en de soldaatjes  in"papier mâché" onder druk te staan. BEEUSAERT maakt de overschakeling door het assortiment uit te breiden met de fabricatie van tenten en kostumes. In de jaren zestig wordt ook de productie overgenomen van de KUIFJES poppen.
1965
Nazaire BEEUSAERT overlijdt in 1965. Het is het einde van de speelgoedfabriek NAZAIRE BEEUSAERT. De zonen Julien en Romain verdelen de fabricatie en starten elk een eigen bedrijf. Julien Beeusaert schakelt geleidelijk over van fabricatie op groothandel in speelgoed onder de naam BEEUSAERT. Zijn zoon Dirk zal tot in het eerste decennium van de 20ste eeuw de zaak verderzetten. Romain Beeusaert neemt de fabricatie van tenten en kostumes over en specialiseert zich later in artikelen voor tuinmeubels. Zijn firma ROMICO zal haar activiteiten stopzetten in het jaar 2000.
1958
The year is a milestone for Beeusaert but it also a turning point in his life. The success of the plastic toys is threatening the cardboard horses and toy soldiers made of "papier mâché". He reacts by diversifying his products and launches a series of costumes and tents. In the sixties, he takes over the production of rubber "Tintin" dolls.
1965
Nazaire BEEUSAERT passes away in 1965. This means the end of NAZAIRE BEEUSAERT's company. The sons split the company and each of them starts his own business. Julien Beeusaert gradually passes from own production to a wholesale trade of toys. The BEEUSAERT private limited company was handed over to Dirk Beeusaert, Julien's son. Activities end in 2007. Romain Beeusaert continues manufacturing costumes and tents for a few years but finally specializes in the production of fabrics for garden articles, like garden furniture. The ROMICO Company stops all its activities in 2000.
BOEK
Over het speelgoed NAZAIRE BEEUSAERT is een boek gepubliceerd door zijn kleinzoon Luc VAN WANZEELE. Het boek vertelt het verhaal van de fabriek en is rijk geïllustreerd met meer dan 600 foto's over de fabricatie en het speelgoed.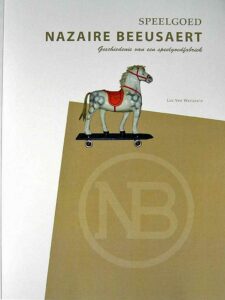 Auteur: Luc Van Wanzeele
Hardcover, 164 p.
Een nieuwe en herziene uitgave is in voorbereiding.
Verwacht tegen april 2023
BOOK
Luc Van Wanzeele, grandson of Nazaire Beeusaert, published a book about NAZAIRE BEEUSAERT and the history of the toy factory, richly illustrated with more than 600 pictures.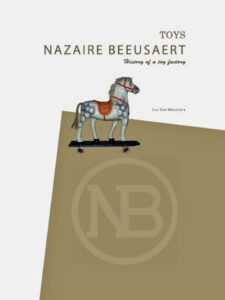 Author: Luc Van Wanzeele
Hardcover, 164 p.
Your order
PUBLICATION
Luc Van Wanzeele, petit-fils de Nazaire Beeusaert, a publié un livre sur LE JOUET NAZAIRE BEEUSAERT et l'histoire de la manufacture, illustré avec plus de 600 images en couleur.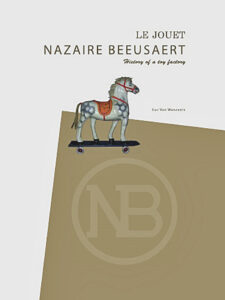 Auteur: Luc Van Wanzeele
Couverture rigide, 164 p.
Votre commande
 PREVIEW (Nederlands)
Verkort (18 of 83 spreads)